MEDIX Surgical Cataract Set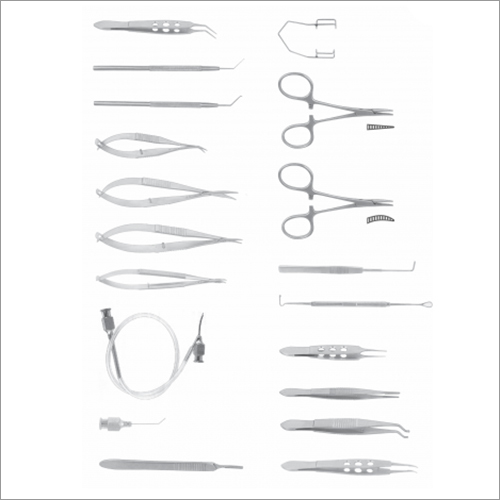 MEDIX Surgical Cataract Set
Product Specifications
Eye Surgery Instruments

Forceps
Product Description
Surgical Cataract Set is a set of tools for cataract surgery. It features a wide array of instrument options to precisely provide support as eye instruments used in small incision cataract surgery. Surgical Cataract Set is known for its precision, durability and quality, leading to high rising demands among our competitors.
Features:
1. Barraquer Wire Speculum, Large ME-0006 (C)
2. Hartmann Mosquito Forcep, Straight ME-0360 (A)
3. Hartmann Mosquito Forcep, Curved ME-0360 (B)
4. Smith Lens Expressor ME-0456"
5. Lens Expressor Hook & Loop ME-0468"
6. Bishop-Harmon Iris Forcep, 1x2 Teeth ME-0654 (B)
7. Wills Hospital Utility Forcep ME-0678"
8. Dastoor Superior-Rectus Forcep ME-0792"
9. Harms Tying Forcep, Curved ME-0870 (B)
10. Kelman-McPherson Forcep ,Angled ME-1038"
11. Sinskey Lens Manipulating Hook ME-1248 (B)
12. Phaco Chopper, Universal ME-1386"
13. Vannas Scissor Sharp Tip ME-1572"
14. Wescott Stitch Scissor, Blunt Tip ME-1602"
15. Micro Corneal Scissor, Blunt Tip ME-1644"
16. Barraquer Needle Holder, W/o Lock ME-1776 (A)
17. Simcoe I/A Cannula, Regular ME-1968"
18. Air Injection Cannula ME-2034"
19. Bard-Parker Handle ME-2226"
Trade Information
Letter of Credit (L/C), Telegraphic Transfer (T/T)

Export Packaging